12-2008
TODD'S FAVORITE ADULT ACTORS AND THEIR FAVORITE FLOWERS


Todd's Favorite Adult Actors and Their Favorite Flowers is a hand-assembled portfolio of eight cards depicting adult film stars and their favorite flowers. The cards loosely mimic baseball cards, complete with appropriate stats and a fictitious anecdote about each actor. The cards are presented in protective sleeves and displayed in a Velcro-sealed portfolio. Todd's Favorite Adult Actors and Their Favorite Flowers relates Todd's humorous and misinformed fantasies. And it can be yours for only $10 + $2 S&H.

By Matt Kessler and Zach Huelsing.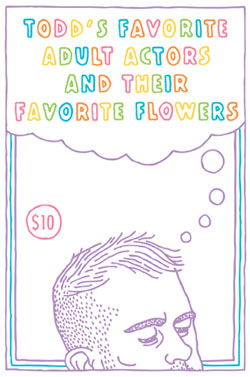 SOLD OUT






11-2007
THE NATIONAL SCIENCE FAIR OF AMAZING NEW DISCOVERIES


The National Science Fair Of Amazing New Discoveries is a 40-page illustrated short story that showcases the finest new inventions the science world has to offer, including dancing toilets, blogging minnows and scripture-reciting bowling balls. These wonderful new inventions are lovingly illustrated so that readers may marvel at science's most recent and most excellent advancements. Buy your copy now! $7 + $2 S&H.

By Matt Kessler.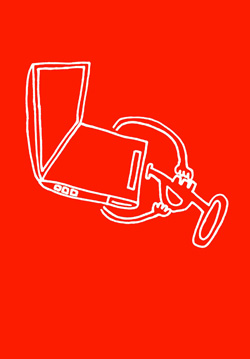 07-2007
WORKS CITED
Limited-edition release!

Works Cited is a collection of papers chronicling the classroom episodes of an antagonistic elementary school rad dude, an introspective girl with a bad case of Brad-lust, and a budding poet who may or may not eat her own boogers.

Monitor the progress of these students (and their classmates at Wright Preparatory Academy) in an interconnected series of exam blue books, art projects, essays, confiscated notes, study hall drawings and teacher-authored memos.

Works Cited features ten awesome (and awesomely defaced) hand-drawn covers. Limited to 350 numbered editions and moving fast! Only $6 + $2 for shipping.

By Zach Huelsing and Matt Kessler.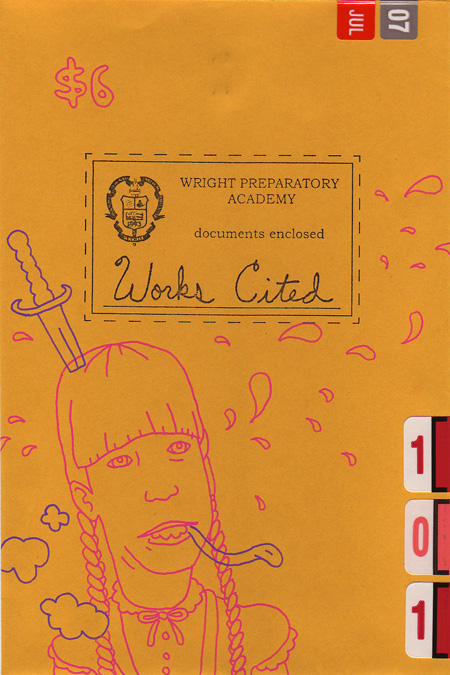 From the files of Works Cited:




SOLD OUT




08-2006
DIAMONDS #1
Released to much acclaim and disdain in the summer of 2006, Diamonds: A Teen Girl's Guide to Baseball has been every girl's most reliable BFF ever since.

Diamonds dishes on what it's like to have a swinger in your dugout, leaks makeover secrets that'll transform your guy into a Philadelphia Phanatic, and tells all about Barry Zito's first time getting to first base.

This juicy goss and more in four beautifully illustrated pages. Buy a copy for the special girl that you'd like to have in your life. As a matter of fact, at $.25 a copy, buy ten or twenty copies and see what happens. Start learning from the pros today! Only $.25 + $.50 for shipping. Second printing.

By Matt Kessler and Zach Huelsing.