12-01-2013
The Billy Ireland Cartoon Library And Museum

We're excited to announce that Works Cited is currently on display at the Billy Ireland Cartoon Library and Museum at Ohio State University. The Billy Ireland Museum is the world's largest museum of comic books.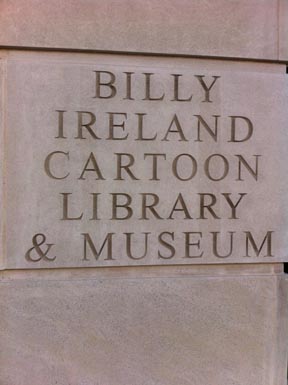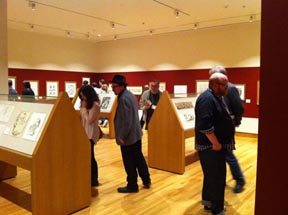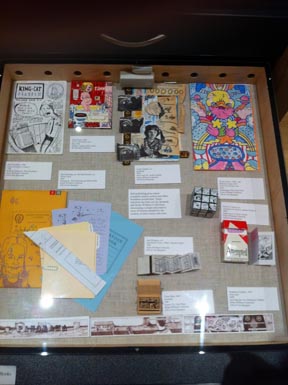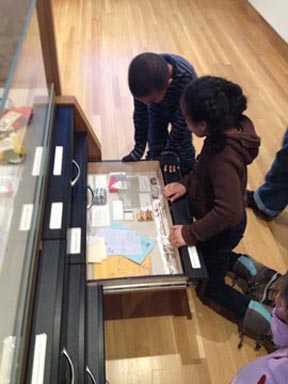 Learn more about the museum by reading about the opening at The Comics Journal or by watching a news segment at This Week News or Al Jazeera.


05-14-2009
The Whistler

If you're in Chicago next week, come check out Matt & Zach at the Show 'N' Tell Show at The Whistler on May 20th at 7 pm. Hosted by Zach Dodson and Mike Renaud of Featherproof Books, this show will be a Book Design Special. The Show 'N' Tell Show is always free and always fun. In addition to Matt & Zach, this month's show will feature presentations by Jay Ryan, Paul Hornshemeier, David Barringer, and Doug Fogelson. It promises to be a great time! But come early as shows usually reach max cap!

AND you might just get to hear Todd read one of his very own stories....in his very own voice!


03-24-2009
Beaconsfield's Gallery in London
Posted by Matt

Matt Kessler will be giving a presentation about Eye Rocket at the Beaconsfield's Gallery in London on Thursday night. Free entry. Here's the write-up:

Beaconsfield's Writer in Residence Neil McQuillian presents his first book-based event in the Ragged Canteen, introducing young publishers whose work celebrates the book as an interface between form and content. Present will be a special guest from Chicago, Matt Kessler, co-founder of Eye Rocket Books and creator of Works Cited, a publication composed of papers 'found' in a high school, from grade cards to notes passed in class. Also Mike Topping, illustrator of the covers for Penguin's recent series of Arthur Conan Doyle's Sherlock Holmes books, and Chloe Luxford, a paper engineer extraordinaire,​ and protege of Robert Sabuda. Bring your most troubling existential questions, too, and consult our oracle book. Beer and wine will be available as well as delicious food from the Ragged Canteen. Free entry.


03-15-2009
Slides Of March
Posted by Matt

SUNDAY: Please join us for an evening of hilarity at the Slides of March, a benefit for 826 CHICAGO. Hosted by Anne Elizabeth Moore, The Slides of March will feature short slide show presentations by Jennifer Brandel, Joe Zarrow, Laura Pearson, Shannon Stratton, Liz Mason, Ms. Moore and Matt Kessler. It's a benefit for youth literacy education, folks! You have no excuses!

Matt Kessler's presentation will be about baseball players' bodies and how that correlates with American foreign policy from like 1985 - 2005. (HINT: BASEBALL PLAYERS WERE REALLY HOT BACK THEN!)

Sun, March 15, 7:30 PM: $8.26; www.826chi.org; 1331 N Milwaukee Ave








03-14-2009
Saturday Morning Cartoons
Posted by Matt

SATURDAY: Come join us at No Coast at 11 am for a screening of Saturday Morning Cartoons. Eye Rocket teams up with No Coast and Bike-In Cinema to present a collection of favorite vintage cartoons and advertisements. Start the morning off right with some Bob Clampett and Fleischer Brothers shorts, some Dungeons & Dragons and Duck Tales episodes, and perhaps a pawn shop commercial or two. B.Y.O.C. - Bring Your Own Cereal, fool!

Sat, March 14th; 11 am - 3 pm; FREE; www.no-coast.org; 1500 W 17th St; PILSEN








01-17-2009
WFMU Top 10 of 2008
Posted by Matt

Sweet!

1) who cares
2) who cares
3) who cares
4) who cares
5) who cares
6) The excellent books from Eye Rocket Books, especially the brilliant and extremely disturbing "Diamonds" and the incredible "Works Cited." Matt Kessler and Zach Huelsing should totally be getting grants from the Center for Book Arts.
7) who cares
8) who cares
9) who cares
10) who cares


01-15-2008
BUILD-A-BEAR PARTY

We had so much fun at our Build-A-Bear Party last month that we forgot to take photos! All we've got are the cards. Check them out here! PS - This is NOT SAFE FOR WORK.


10-22-2008
Lecture at The University of Illinois

The University of Illinois invited Matt and Zach to give a lecture this Friday (Oct 24th) at the School of Art and Design. This lecture is open to the public, so if you are in the area and would like to glean some of their copious wisdom, come to the Art and Design Building at 408 East Peabody, Room 240. The lecture begins promptly at 10 AM and will last until 11:45 AM. No slo-mo's allowed! Do not arrive late! Those in attendance will get a sneak-peek at their brand new zine, Todd's Favorite Adult Actors and Their Favorite Flowers.

07-10-2008
Window Display

If you're in Chicago this summer, make sure to go by Quimby's to check out the new window display that Zach installed this past weekend. It'll be there all summer, so make sure to swing by! And if you don't live in Chicago, check out the photos on the website. Trust us, you don't want to miss it!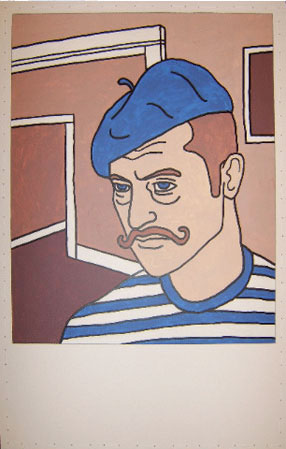 04-08-2008
On The Radio

If you live in New York, turn your dial to WFMU 91.1 FM on Friday at 6 pm ET as Matt and Zach will be the guests on Killing Time with Bronwyn C. We'll be on for an hour discussing Works Cited, Science Fair and the upcoming Diamonds project. If you don't live in New York, you can stream the show online or listen to the archived edition afterwards.

Here are the details:

Matt & Zach on Killing Time with Bronwyn C.
Friday, April 11th. 6 pm ET.
WFMU. 91.1 FM.

Click here for the live stream.

Click here for the archived show.

02-27-2008
Pecha Kucha Chicago

Come all ye faithful, Tuesday March 4th, to Pecha Kucha Chicago at Martyrs on Lincoln Avenue. Matt will be giving an eight-minute slideshow presentation about the Defense Advanced Research Projects Agency (DARPA). The event will take place at Martyrs on Lincoln Avenue. The evening will start at 8 pm. Tickets are $10 and usually sell out to this event. Be prompt! Matt will be the first presenter.

02-15-2008
St. Louis

Photos from last weekend's trip to Vintage Vinyl and Star Clipper: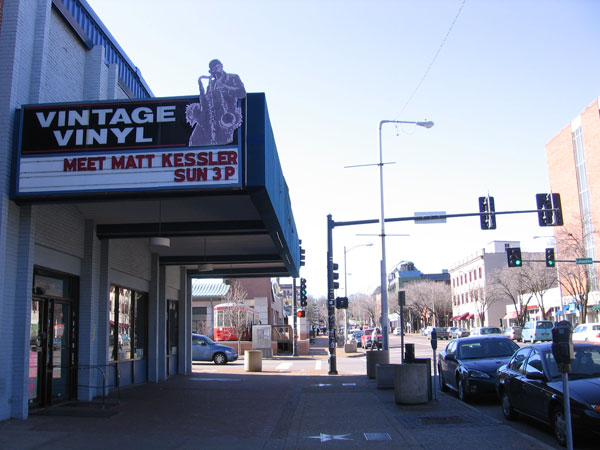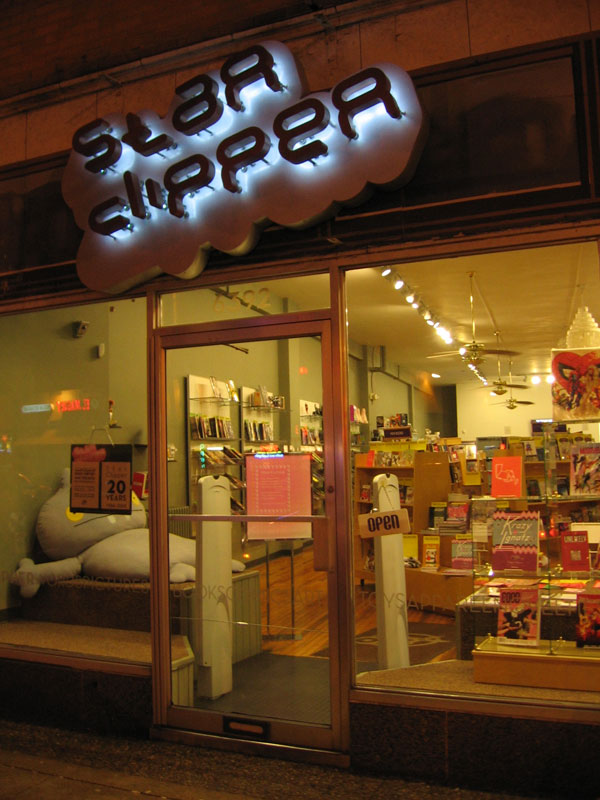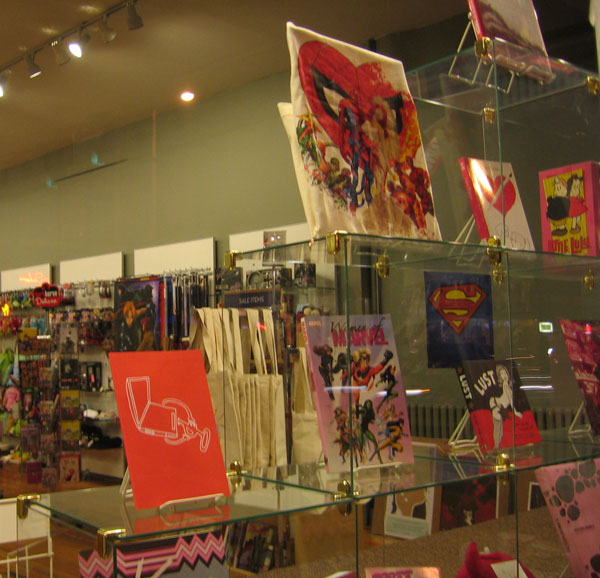 01-24-2008
IN STORE APPEARANCES

Matt will be doing a couple in-store appearances to sign copies of The National Science Fair of Amazing New Discoveries. If you're in town, please stop by!

SUNDAY JAN 27th at Pages For All Ages in Champaign, IL.

SUNDAY FEB 10th at Vintage Vinyl in St Louis, MO


01-22-2008
EYE ROCKET SIGNS DISTRO DEAL

As of this week, Eye Rocket will be distributed by San Francisco-based distribution and publishing company Last Gasp. This means that Works Cited and Science Fair will be getting their passports stamped as they make their way to international cities like Tokyo, London and Berlin. The bad news of that deal, however, is that we are now officially down to our last fifteen copies of Works Cited. If you'd like to purchase one of the remaining copies, please place an order before February 1st. Afterwards, they'll no longer be available (except for the copies put in storage for the SPX expo this fall).

01-21-2008
PECHA KUCHA INDIANAPOLIS

On February 1st, Matt will be giving a presentation at Pechu Kucha Indianapolis at the Harrison Center for the Arts. Hosted by Kristian Andersen and record label Asthmatic Kitty, Pecha Kucha (Japanese for "chit-chat") ") is a forum for designers, architects, artists, musicians, thought leaders (and more!) to share their ideas and work in a concise, visual manner.

Originally crafted by architecture firm KDa in Toyko as an opportunity for young designers to meet, network, and show their work in public, it is essentially an evening of slideshows and socializing. The attraction of Pecha Kucha (besides the beer and wine) is its format: each presenter is alloted just 20 slides, shown for only 20 seconds each. This fast-paced format ensures that each presentation is distilled to its essence (and prevents long-winded lectures!).

OK, duh, we didn't write that; that's the official site description. Matt's presentation will be about the Defense Advanced Research Projects Agency (DARPA). He'll examine a few of DARPA's more creative inventions, such as their forays into remote-controlled animal-weapons like the ROBO RAT and the Hybrid Insect Mems, and their attempted development of unusual sound weapons, like the failed acoustic energy projector, The Gayl Blaster. A web link is forthcoming, with beautiful videos, jpgs and archival websites.

If you're in the area, please come and join us! The fun starts at 7:30 pm. Entrance is $20.

01-15-2008
TOP TEN LIST

We are pleased to announce that Works Cited was on Quimby's top 10 of 2007 list, as posted by our favorite man in the biz, Brian Shapiro. We're excited to be on a list that includes such Eye Rocket favorites as Mingering Mike and famed German playboy Ulrich Haarburste.

11-20-2007
Photo Funnies

Hi Friends,

The Photo Funnies are finally online! If you sent in your photo, go on and feel the love.





11-03-2007
LAUNCH PARTY!!!

The Launch Party for The National Science Fair Of Amazing New Discoveries was this weekend. We had a blast and we'd like to thank everyone for coming out. Here's a little visual tour for those who were unable to attend.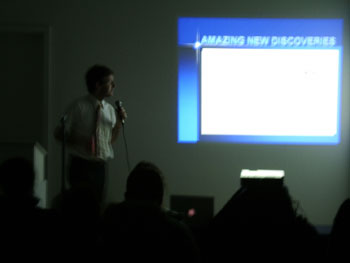 Matt gave a brief power point presentation to explain the intricate ins and outs of all the amazing, new discoveries uncovered in Science Fair.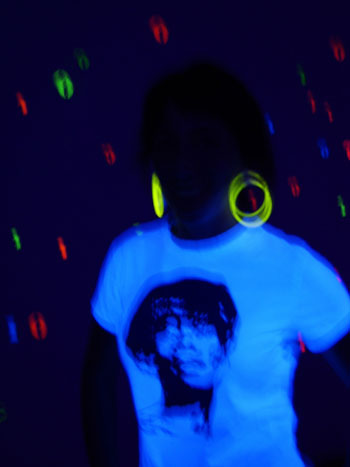 Emily totally agreed with the science.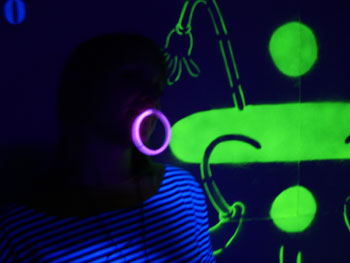 So did Lena!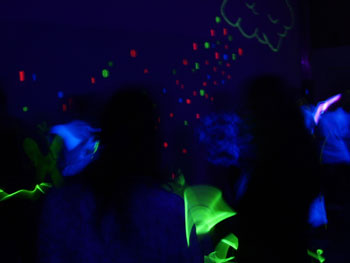 People danced under the glowing Digital Rain.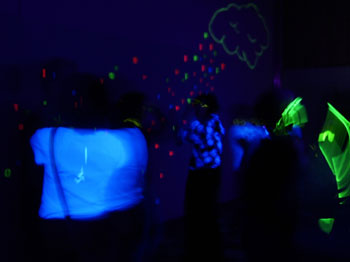 The integrity of the binary code was beyond reproach.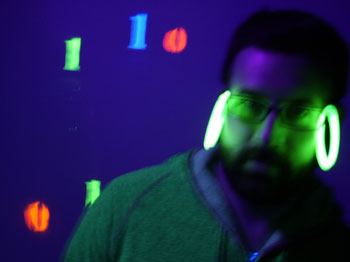 Jon remained unconvinced.



11-01-2007
NEW RELEASE!!!

We're proud to announce the release of ER 002-- THE NATIONAL SCIENCE FAIR OF AMAZING NEW DISCOVERIES. This 40 page book is illustrated crudely but written awesome.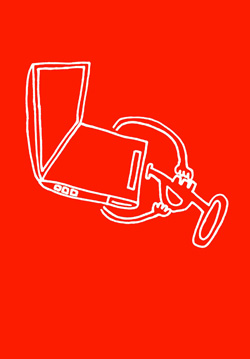 10-01-2007
DEPART-MENT

Hi Friends,

If you live in the Chicago area, come join Eye Rocket at Depart-Ment this weekend. Depart-Ment is a handmade crafts fair. This is our first year showing and we've worked extra hard to make a kick-ass display. No way we're going to be outdone by cute hippie girls who sell felt earrings or trash-talking stationery geeks. The Eye Rocket booth is an imposing, cold-hearted, three-dimensional ode to our burgeoning corporate aims. We'll be selling Works Cited and Diamonds #1. So come check it out! Photos will be posted soon. Here's the details:

DEPART-MENT
Fri - Sun, October 5th - 7th
2000 W Fulton
Chicago, IL 60612


www.depart-ment.com


09-11-2007
From The Desk of Eye Rocket



From The Desk of Eye Rocket


Company Profile


Eye Rocket researches, designs, develops, manufactures, integrates, operates, and sustains technology systems, advanced weapons products, and zines.

Products


The F-35 Joint Strike Fighter
The F-22 Air Dominance Attack and Multi Mission Combat Aircraft
The F-16 Multi Role Fighter
The C-130J Tactical Transport Aircraft
The C-5 Strategic Airlift Aircraft
The ER 001 Zine Diamonds: A Teen Girl's Guide To Baseball
The ER 003 Zine Works Cited


Eye Rocket also supports the F-117 stealth fighter, and special mission and reconnaissance aircraft; produces components for the F-2 fighter; and serves as a co-developer of the C-27J tactical transport aircraft and the T-50 jet trainer. We are equally pleased to announce the upcoming release of ER 002, The National Science Fair of Amazing New Discoveries on November 1st.

Analysis




Around the Office

Hello friends, family, shareholders,

This week, we at Eye Rocket have finally learned that immense profit growth cannot always be the number one goal of a thriving corporation. Sure, it might be important to invest recent returns into new product development, but is it not also important to buy comic books and watch cartoons? And with the MLB playoffs looming around the corner, will it not be equally important for employees to relocate to local bars to conduct on-site research? With peanuts?

Juggling priorities is always a difficult task. That's why Eye Rocket looks to spiritual advisor Shirley MacLaine for answers. Eye Rocket approached www.shirleymaclaine.com with one simple question: Cartoons or product development? The answer we received was in the form of a question, a subtle nudge down the path of enlightenment—How does Eye Rocket's personal energy resonate with the plant kingdom? Confused, we studied the website for elucidation. These are the answers we received—


Eye Rocket must purchase essential oils.

Essential oils are wonderful vibrations that will affect the company's physical, emotional, mental and spiritual well-being.

Essential oils do not interfere with the company's electromagnetic field.


Unconvinced, Eye Rocket considered the author's meticulous research--

I [licensed astrologer Sandy Helton, a Sagittarius] tested some oils by holding them where my dogs could sniff if they wished. Usually, if something is a chemical or just wrong, they shy away and look offended, but with essential oils they were curious and got right up close to smell the various aromas. I make a special blessing and protection blend that they like very much so I am happy to anoint them with it on the tops of their heads. They occasionally check one another to see what they are wearing!

Helton's wisdom is too wise for grammar. Let's get on with the show.

News

It is almost the end of summer. Excited young students are happily trotting off to school for the new semester and, in commemoration of this magical time, Eye Rocket is pleased to announce the development of an online Works Cited yearbook. It's easy to join! Simply send a portrait photo of yourself to the Works Cited e-mail account (workscited @eyerocketbooks.com). Your photo will be defaced in the style of the Works Cited cover and then arranged and compiled in an online yearbook. Everyone is strongly encouraged to participate! We will be taking this show on the road too. We will be at Quimby's in Chicago at 7 pm, Oct 18th, if you'd like to come see us in action.
We are also pleased to share with you the following review of Works Cited by Fantagraphics editor Eric Reynolds, as posted on the Fantagraphics blog.

WRIGHT PREPARATORY ACADEMY by various - I don't know who did this (a collective of artists, it seems), or where you can get it, so this might be the most unhelpful web recommendation since hyperlinks were invented. But it's great, so there! More zine than comics, this is a screenprinted manilla envelope filled with random paper detrius from a (presumably) fictional high school, including permanent student records, diary entries, confiscated notes, etc. Funny stuff, and there is a narrative thread that weaves through some of the elements that makes it greater than the sum of its parts. There was one narrative trick in particular which involved reading two files in a particular order, and I'm not quite sure how the creators could be assured they would be read in the proper order, but in my case they were and the payoff was laugh-out-loud hilarious and I'm totally impressed.

UPDATE: I received an email from the authors of the above zine, and the actual title is WORKS CITED, and it's published by Eye Rocket Books and created by Zach Huelsing and Matt Kessler. I'm eager to check out more of what they've done.
Stay Tuned For
The Works Cited Online Yearbook

ER 002 The National Science Fair Of Amazing New Discoveries (Nov 1st)

Much Love

07-07-2007
LAUNCH PARTY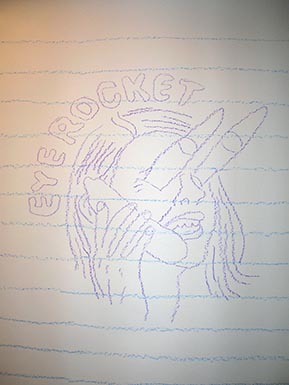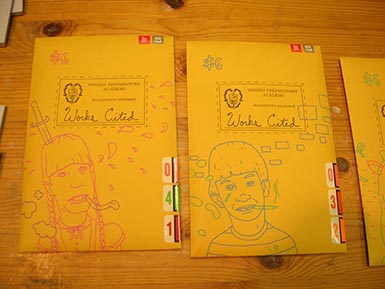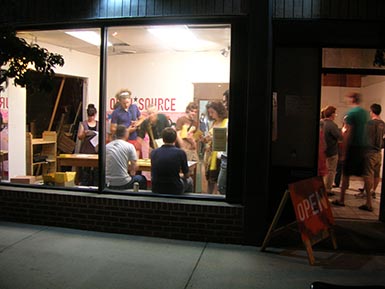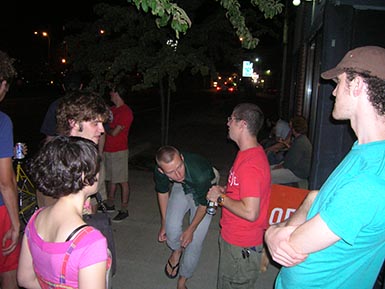 Eye Rocket's first launch party happened at Open Source in Champaign, Illinois. All went well. DJ We Need To Talk and DJ On Call blasted the hits and everybody drank and enjoyed their new copies of Works Cited. Thanks to everybody who came out, except the cops.

07-02-2007
RADIO INTERVIEW
Matt and Zach were interviewed by our friend Paul Riismandel for his radio show, Media Geek. You can check out the podcast at Media Geek. The podcast is the one listed as 06-29-2007.